Stone artist
Francisco Javier Astorga Ruiz del Hoyo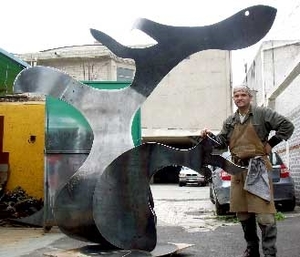 CV

2013 "Song of the water between the stones"
Co-organize Mexico-France "Mark La Tour"
2013 USA, Massachusetts "Early rising rooster"
2013 Taiwan, Miaoli Museum "Sacred Furnace of the World"

Introduction

Javier Astorga studied architecture at UIA (Universidad Iberoamericana) in Mexico city, achieving the highest point average in his class.
He has developed sculpture over 30 years, achieving an important position in the field of Latin-American international artists.
His work has been acquired by collectors in México and governments in different countries around the world, such as Spain, France, Sweden, Norway, China, Korea, United Arab Emirates, USA, Canada, Argentina, Bolivia, the Netherlands, Africa and Brazil, among others.
In recent years he has developed public sculpture for Symposiums and public parks in Mexico and other countries around the world.
Sculpture works