Stone artist
Goran Čpajak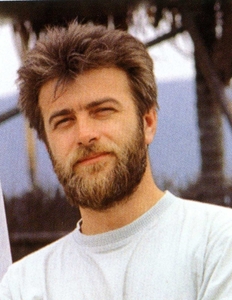 Serbia / Male
Goran Čpajak
Goran Čpajak
CV

1988 ""Salon of October", Belgrade, Yugoslavia
    State exhibition of Winning Sculpture ""Pivo Karamantijievic", Belgrade,
Yugoslavia
1999 Second Prize, Open Competition
   Prize of University of Art, Belgrade, Yugoslavia 1995 First Prize,
   International Symposium of Sculpture, Museum of Modern Art, Kaohsiung. Taiwan

Introduction

Goran Cpajak is an Italian-based Serbian sculptor born in Yugoslavia in 1963. Cpajak graduated from the Department of Sculpture in the University of Art in Belgrade in 1988. He has participated in various exhibitions throughout his career including, the International Exhibition in Honour of the Olympic Games in Beijing, China, the International Exhibition for Nikola Tesla's Anniversary, in Navy Pier in Chicago, USA, and the International Stone Sculpture Exhibition in Markham, Canada.
In his work he tries to express every day moments and emotions. The sculpture for this symposium is meant to portray equilibrium through a figure with very small yet precise impactful movements.